06.09.2010
Sire:
INT CH, RUS JCH, RUS CH, GRAND CH, RKF CH, 2xCLUB CH, Multi BOB,
Grand CH Bulgaria, CH Bulgaria, CH Belarus, Balkan CH, CH Montenegro,
CH Srbije, CH Lithuania,
Helada Hill's Dandy Man
(Дэнди)

Dam:

RUS CH, GRAND CH, RKF CH, CLUB CH
Antaleks Oriental Princess (Прима)
All puppies have found the homes
Все щенки нашли свои семьи
22.12.2010
Happy in family Krista!
Thomas and his friends: Taisto (3,5 months), Vaino (chihuahua, 2 months) and Olga (dalmatinac).
Photo by Krista Ala-Ukka
Весело в семье Кристы!
Томас и его друзья: Тайсто (3,5 месяца) ,Вайно (чихуахуа, 2 месяца) и Ольга (далматин).
Antaleks Flash Lightning (Taisto)
Owner: Krista Ala-Ukko (Finland)

Taisto & T.Lebedeva Taisto & L.Shamargina
Antaleks Fleur-de-Lis (Lisa)
Owner: Julia Usenko (Estonia)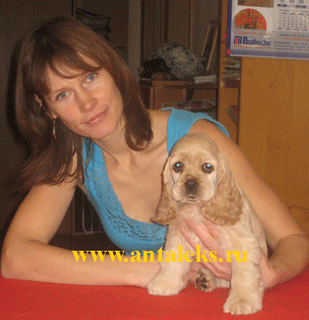 Antaleks Flaying to Win (Alice)
Owner: T.Lebedeva (Kennel Antaleks)
Antaleks Fifth Element (Lilu)
Owner: L.Shamargina (Kennel Antaleks)
8 Weeks. Our boys
7 Weeks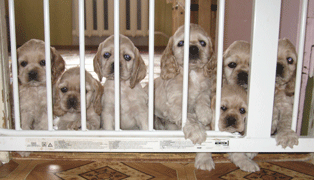 We walk. 6 Weeks
Our boys
Our girls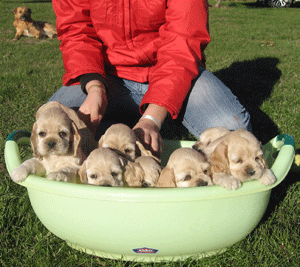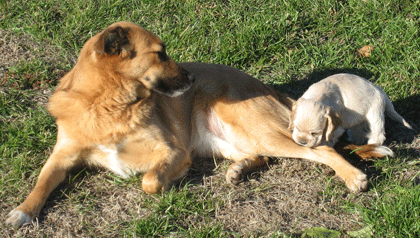 15 Days
We wait... There Were 3 more days.Ждём... Осталось ещё 3 дня.

Owner: Judge RKF-FCI Tatyana Lebedeva
Владелец: эксперт РКФ-ФЦИ Лебедева Татьяна
<![if !supportEmptyParas]>Ph.:+7 (495) 758-96-13, +7 910 461 43 87<![endif]> e-mail.: antaleks@bk.ru
Kennel "Antaleks" - small breeding of American cockers in Russia. Dogs for show and pets. Puppies for sale.
Питомник "Анталекс" - разведение американских кокеров в России. Собаки для шоу и дома. Продажа щенков